The United Nations Children's Fund (UNICEF) is dedicated to protecting the basic rights of every child and supporting their access to healthcare, nutrition, education, and protection against violence and exploitation in impoverished regions worldwide. In collaboration with AI Advertising (MI-DSP™), they have embarked on a partnership to enhance the visibility of UNICEF's humanitarian initiatives and maximize click-through rates, with the ultimate goal of encouraging compassionate individuals to donate and make a meaningful impact.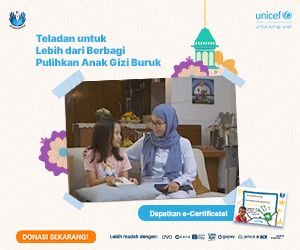 Before launching the marketing campaign, we utilized Marketing Intelligence (MI-DMP™) to identify highly engaged audiences interested in international efforts to assist impoverished children. Four key target segments were created and incorporated into the advertising strategy. The first segment comprised regular supermarket shoppers, as UNICEF donation centers are often located in supermarkets. The second segment consisted of white-collar professionals with stable incomes. The third segment encompassed individuals who frequently use shopping apps. Lastly, the campaign targeted individuals with a medium to high socioeconomic status.
Marketing Intelligence (MI-DMP™)leveraged offline geolocation data to identify people who frequently visit supermarkets (Points of Interest is supermarket) or to help you build a specific area based on latitude and longitude coordinates. Two methods are recommended: (1) Enter the name of the location or area to quickly map recent visits by the target audience; (2) For users who want to efficiently map multiple locations at once, the batch uploading feature for latitude and longitude coordinates is suggested, saving time and operational costs.
A、Area Range Application
Step 1: Enter location keywords to search for specific places or area ranges.
Step 2: Choose the shape tool (custom polygon/square/circle) to draw the desired range.
Step 3: Name and save the selected places or areas to complete the location setup.
B、Batch Uploading of Locations
Step 1: Select the appropriate upload type based on the precision of location coordinates. For precise coordinates, use the custom polygon tool, and for broader area ranges, use the circle tool.
Step 2: Download the CSV template and input location names, longitudes, and latitudes in the provided format.
Step 3: Choose the edited CSV file containing the coordinates and complete the upload process. The system will automatically generate the desired ranges based on the provided data.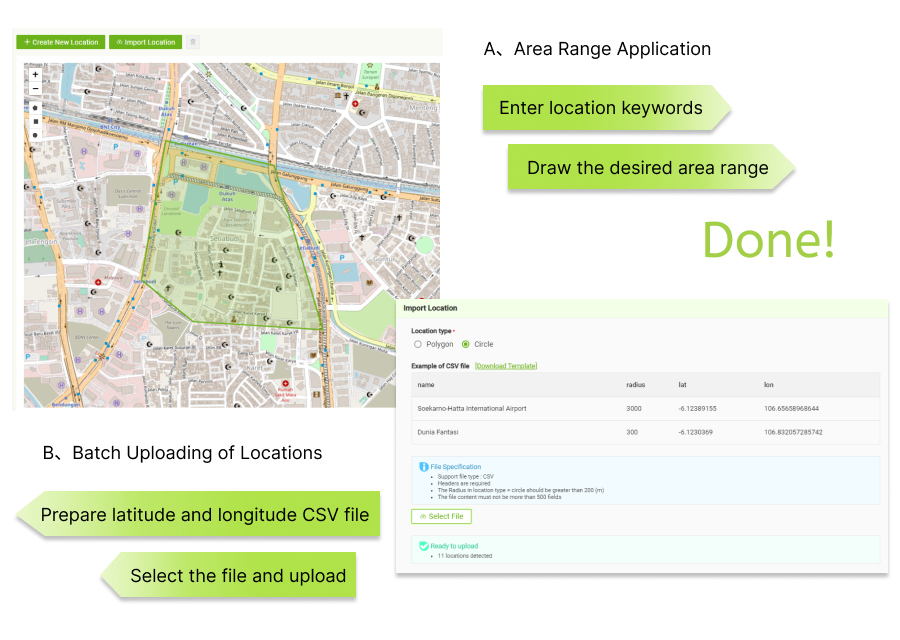 Now let's take a look at the performance results on AI Advertising (MI-DSP™):
Top Performing Ad Groups
We observed that users above 25 years of age who frequently use e-commerce apps and regular supermarket shoppers demonstrated a higher propensity to click on ads and browse the website.
| Ad Groups | CTR |
| --- | --- |
| 25Y+ & often use shopping Apps (Shopee, Tokopedia, Bukalapak, Happy Fresh, Transmart, Carrefour, etc) | 1.19% |
| 25Y+ & often go to supermarkets (Carrefour/Transmart, Foodhall, Ranch Market, Superindo, Lotte Mart, etc) | 0.92% |
| 25Y+ & SES A+ (Upper middle) | 0.75% |
| 25Y+ & have visited Office Area (SCBD, Mega Kuningan, Sudirman, etc) | 0.34% |
2. Ad Placement Locations
The majority of the ads were targeted at Jakarta (57.95%), Surabaya (18.4%), and Bandung (10.16%), cities known for their thriving business environments and vibrant populations.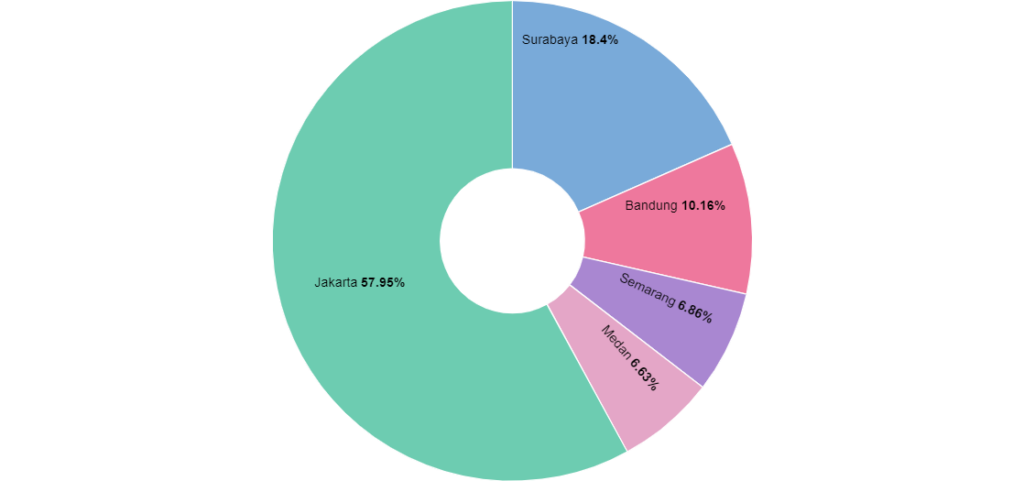 3. Overall Remarketing Results
The United Nations Children's Fund (UNICEF)is a specialized agency of the United Nations. It was established on December 11, 1946, at the United Nations General Assembly and is headquartered in New York, USA. UNICEF provides long-term humanitarian and developmental assistance to mothers and children in developing countries. As a voluntary funding organization, UNICEF relies on donations from governments and individuals. Its projects focus on improving community services to enhance children's health. UNICEF believes that nurturing and caring for children is the foundation of human development. It was created with the goal of overcoming obstacles faced by children in their growth, including poverty, violence, diseases, and discrimination, in collaboration with other organizations. UNICEF believes that together, we can advance this humanitarian cause. As the leading institution within the United Nations for children's issues, UNICEF works in 156 developing and transitioning countries to ensure the survival and development of children. UNICEF is the world's largest provider of vaccines for impoverished countries. To ensure children's health and achieve nutrition standards, UNICEF promotes the Millennium Development Goals by providing quality basic education, safe drinking water, and sanitation facilities for all boys and girls, and striving to protect children from violence, exploitation, and the impact of HIV/AIDS. (Source: Wiki)
Let's experience more Mobility Intelligence